On Saturday, March 7, from the start of service until 6:00 p.m., Red, Blue and Green Line rail service will be replaced with buses between Tower City and E. 55 stations due to track work.
The replacement buses will travel directly between Tower City and E. 55 stations and do NOT stop at the Tri-C-Campus District station. Please use bus routes #15 or #15 to travel between this station and Tower City.
Due to construction on W. Prospect, the stop for Tower City will be located on W. Huron at W. 3rd St. Please look for the special orange replacement bus stop sign.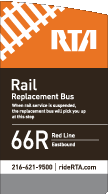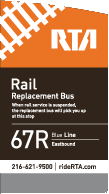 During this time, Waterfront Line will operate every 30 minutes.
Regular rail service will resume at the conclusion of construction activities.
RTA apologizes for the inconvenience as these necessary repairs are made.